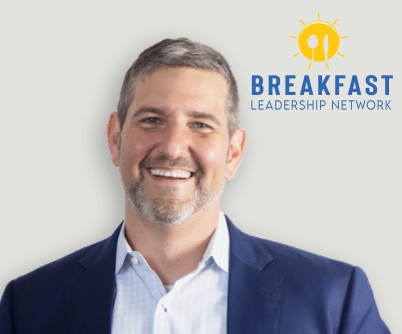 Support the Breakfast Leadership Network!
Burnout Proof Your Life Online Course. Enter the code NINETY at checkout, to save 90% off the course:
https://breakfastleadership.teachable.com/p/burnout-proof-your-life
Hire Michael to speak at your event: https://BreakfastLeadership.com/speaking
Buy Michael's life altering book: 369 Days: How To Survive A Year of Worst-Case Scenario: https://www.amazon.com/369-Days-Survive-Worst-Case-Scenarios-ebook/dp/B074CCLKZP/ref=sr_1_1?ie=UTF8&qid=1502047423&sr=8-1&keywords=369+days
Contribute on Patreon: https://www.patreon.com/bfastleadership
Or PayPal: https://www.paypal.me/bfastleadership
Breakfast Leadership Network Merchandise: https://teespring.com/stores/breakfast-leadership-network
Like, Rate and Review the Breakfast Leadership Show on Apple Podcasts: https://podcasts.apple.com/ca/podcast/breakfast-leadership/id1207338410
------
Eric Dunavant
Growing up, Eric's own family faced an unexpected tragedy that transpired in the loss of the family business and wealth. This loss fueled Eric's passion for helping families and businesses be more intentional in how the live and give. It was during this time that Eric discovered that money doesn't cause problems; it simply reveals and magnifies the issues we have been ignoring.
Since 2007, Mr. Dunavant's leadership of Paradiem has guided multiple families and businesses to discover the Greatness, Growth, Governance and Generosity in their story and how they can impact today, tomorrow and eternity. Pardiem's experience is that most families do not realize that the financial transformation they are seeking is not in alignment, and is often opposed, to the family transformation they desire. By aligning their intentional financial transformation with their intentional family transformation, they discover outcomes they never considered or imagined.
Before Paradiem, Mr. Dunavant served as a vice president for Charles Schwab. While at Charles Schwab, Mr. Dunavant helped to build the New Orleans private client office to the top national office in 2006. Before Charles Schwab, Mr. Dunavant was an associate at Fidelity Investments, in charge of the management of money market mutual funds.
Eric is a CERTIFIED FINANCIAL PLANNER™, a Qualified Kingdom Advisor™, and affiliated with the Financial Planning Association. In addition to his certifications, Mr. Dunavant has been awarded New Orleans City Business Money Maker twice, the New Orleans area Five Star Professional Wealth Manager award in back-to-back years, and Safe Harbor's Real Man of St. Tammany Parish.
An accomplished writer, Mr. Dunavant's book, What If We've Been Doing It All Wrong focuses on how our worldview often interrupts all our financial thinking and behavior. In addition to his writing accolades, Mr. Dunavant has been featured in several national publications and media outlets, including The New York Times, The Wall Street Journal, Dow Jones Daily Finance, and The Street and Family Wealth Report.
Eric is a proud graduate of Texas A&M University, where he graduated with a degree in business. Mr. Dunavant resides in Covington, Louisiana, with his wife Angel and their three children, Clayton, Austen, and Gracyn. It is Eric and Angel's desire that they spread transformation through a life lived in intentional generosity.
Mr. and Mrs. Dunavant are the proud founders of To All With Love – a faith-based nonprofit dedicated to sharing the joy of service with others, and impacting their local community, in Central American villages and U.S. neighborhoods.